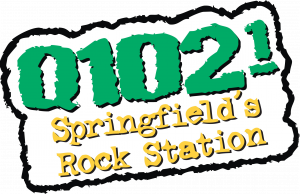 Active Rock
Persons 21-49 
102.1FM   6,000 Watts
Coverage Map
Q102 is Springfield's Rock Station.  Music and positioning of the station is centered on the young professional in the market with Mainstream Modern Rock from today's hottest artists.  Great Rock hits of the 90's like Metallica, Nirvana, The Red Hot Chili Peppers and Alice In Chains to the mega hits of today from artists such as Shinedown, Godsmack, The Foo Fighters, Linkin Park & Seether.  Q102 is known for it's part in breaking new artists in the format! 
LINEUP:
5:00a – 10:00a      Lex & Terry    Springfield's funniest and most talked about morning show is Lex & Terry!  Sports, current events & more!  It's all guy talk with local input and interaction to complete your morning! 
10:00a – 1:00p     Shadow    Opinions, real life conversation and lots of great rock can be found on Middays with Shadow!  She's the life of any party and she's known for her knowledge of football, music & pop culture!  She can run with the boys any day of the week and her entertaining show proves it!  One more reason Q102 leads the market with M18-44.  Shadow is also the host of the 90's Lunch Box which is one of the more popular musical elements on Q102!   
2:00p – 7:00p        Afternoons with Baden!    One of the best reasons for keeping the dial set on 102.1, we're bringing Springfield the best songs to take them from work to home every day! From some of your favorite 90's rock hits to even local Springfield artists, we've got the hits listeners 21-49 want to hear.  Featuring The 5 O'clock Rage Request Hour to soothe the weekday ride home, Q102 is the place to be during afternoons!
7:00p – 12:00a     Hard Drive XL     Since its birth, hardDrive has become a respected and influential rock show in broadcast history!  Hosted since its inception by the award winning Lou Brutus, the show has constantly defined what new music is all about.  hardDrive has given listeners across the continental United States their first taste of bands including Disturbed, Godsmack, Slipknot and Tool, among hundreds of others.  Week after week, hardDrive interviews virtually every musician that exists