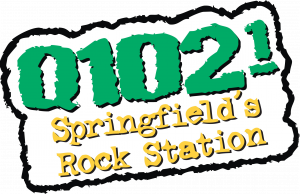 Active Rock
Persons 21-49 
102.1FM   6,000 Watts
Q102 is Springfield's Rock Station.  Music and positioning of the station is centered on the young professional in the market with Mainstream Modern Rock from today's hottest artists.  Great Rock hits of the 90's like Metallica, Nirvana, The Red Hot Chili Peppers and Alice In Chains to the mega hits of today from artists such as Shinedown, Godsmack, The Foo Fighters, Linkin Park & Seether.  Q102 is known for it's part in breaking new artists in the format! 
LINEUP:
5a-10a      Lex & Terry    
10a-1p     Shadow
1p-3p – Valorie Knight      
3p-7p – Baden!    
10p-3a     Hard Drive XL