Fan loyalty can turn into brand loyalty
Sports fans are willing to spend money on watching their favorite sports teams, that's not a surprise. But they are also willing to spend money on products because of their favorite sports teams. Products associated with athletes and teams, like products endorsed by actors, appeal to a wide consumer base. Marketing through sports is a tried-and-true technique. But Why?
Passion Over Logic
The answer is pretty simple, it comes down to the fans. Marketing through sports is a powerful tool that many brands have leveraged over the years. This is true because it works virtually across every industry. Here is a stat from Robert Passikoff, an engagement consultant for Forbes:
"Loyalty is Sky High with sports fans, and loyal customers are six times more likely to think better of your product, are six times more likely to buy your products, are six times more likely to rebuff competitive offers, and are six times more likely to recommend your brand."
What can't be measured is the loyalty fans have for their team and their favorite athletes. That's something that goes beyond logic. A fans passion for his or her team is something that is ingrained in them at a young age. That means for a sports fan one of the strongest, if not the strongest, brands in your life is your favorite sports team. This connection is emotional, not logical. There is no logic in investing so much of your time, money, and dedication in something that will never directly affect you or your family. Never the less, 72% of all 18-29 year is old's and 64% of 30-49 year old's identify with a favorite sports team. This is where fan loyalty can lead to brand loyalty; most people buy based off emotion not logic.
So if a sports fan associates a business with his or her favorite sports team, they will have a very strong emotional reason to buy or use your product/service. Here is a quote from Douglas Van Praet the author of Unconscious Branding: How Neuroscience Can Empower (and Inspire) Marketing:
"The most startling truth is we don't even think our way to logical solutions. We feel our way to reason. Emotions are the substrate, the base layer of neural circuitry underpinning even rational deliberation. Emotions don't hinder decisions. They constitute the foundation on which they're made!"
This type of loyalty doesn't exist in every brand or industry. Here's an example, it's unlikely you have ever seen someone buying the same brand of toothpaste as you in the grocery store and you stop what you're doing and say "That's my favorite brand too, I really love the tarter control in this collection of Crest." Yet this conversation happens daily among sports enthusiast.
Go Team! Go!
Sports fans flock to brands that are associated with their favorite sports team. Don't believe me? In 2014, Chevrolet's GM of Marketing Joel Ewanick, signed a 7-year deal worth $600 million dollars to become the jersey sponsor for Manchester United, a football club based in Manchester England. An American signed a 7-year Jersey Sponsor for a team that's over 4,000 miles away. If that doesn't scream the power of brand association with a sports team, I don't know what does.
Oh yea, and Joel Ewanick's investment proved to be a good one. Over a 5-year span from 2014 to 2019, Manchester United averaged 1.87 million jersey sales per year. Chevy's investment resulted in having 9.35 million people paying close to $100 U.S dollars to wear a giant Chevrolet symbol across their chest. And the overall results speak for themselves, from 2014 to 2018, revenue for Chevy in the U.S increased by 9.09 billion dollars.
There is a very close connection between Fan Loyalty and Brand Loyalty. If a brand can correctly position themselves with a local sports team, it's proven to be invaluable. Here in Missouri there are some prime examples. Hy-Vee is one of the main sponsors of the Kansas City Chiefs. They position themselves as the official tailgate sponsor of the Chiefs. So when you think tailgate in Kansas City, you have to say no to Hy-Vee first.
Here in Springfield we all know a certain lawyer who has positioned himself with 2 professional sports teams in Missouri. Now, you may never need to use his service. But if you are a huge Chiefs fan, the fact that this lawyer has commercials about supporting Travis Kelce's charity may make you more apt to refer his service to someone you know. It's not rational, but remember, most purchases are emotional not logical.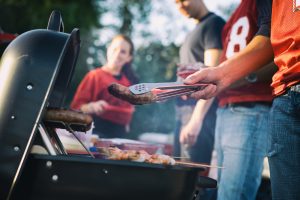 So in conclusion, one of the easiest, quickest, and most efficient ways to grow your brand is marketing with sports. Whether it's a business logo on a jersey, a specific sponsor (think Hy-Vee and tailgating) or donating to a charity that's associated with the team. All these are creative ways for sports fans to associate their favorite team with your business. And if fans can consistently see or hear your business while they are watching their favorite sports team, you are well on your way to converting fan loyalty into brand loyalty.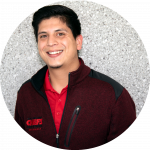 By: Chaz Rose