Before social media existed, it was more difficult to file a complaint with a company. It required a little more work. You know…like picking up the phone and contacting a manager. Or maybe even a hand written letter sent by snail mail. Reputation management was much easier and was limited to individual customer experiences. We learned a dissatisfied customer would tell 10-20 people about their experience while happy customers only told 4-6 people.
Times have changed thanks to social media. In fact, it takes living in the Age of Information to a whole new level. Especially when handling customer complaints and compliments on social media. Businesses can be destroyed online. A great online reputation is hard won and sometimes difficult to maintain, but the payoff can help with a consistent stream of business. A poor online reputation can be fatal to a company.
Reputation Management Killers:
Online Presence: Consumers research products and companies online. Not having a strong online presence keeps people from finding you and gives your competitors the upper hand.
Ignoring Customers: If you just ignore it, it will NOT go away. Ignoring reviews and comments (both positive and negative) makes your company seem like it doesn't care about its customers. Always respond!
Poor Content: The content you post online needs to be clear, well written, and provide value to your customer. Poor grammar, pushy sales lines, boring posts, and unrelated information can drive people away from your business faster than a few negative reviews.
Employees: An employee can tank your online reputation just as quickly as a bad review. If your employee lists your business as a place of work they are automatically seen as a representative for your brand. Anything they do online could come back on your business.
Negative Responses: Reviews can be frustrating, especially when you feel that customers may not be telling the whole truth. Letting your anger get the best of you and responding with rage or becoming overly defensive will do more damage to you than any negative review could.
Reputation Management Winners:
Be active and engaging on social media.
Interact with customers and clients online and respond to negativity in a positive manner.
Put out high quality content.
Have firm and well communicated expectations for your employees.
Steps to Better Reputation Management
Claim Your Brand! Be sure to claim your business on sites like Google, Yelp, Facebook, and any other industry specific sites.
Encourage Reviews: Encourage your customers to review your business. This can be as simple as asking for the review in person, or as advanced as incentivizing reviews with discounts.
Monitor Reviews: Set up Google alerts and monitor notifications from other review sites (Facebook, Yelp, etc.) Set aside time to read your customer feedback and respond.
Respond: If you get a good review, thank your customer! A grateful response can go a long way in building brand loyalty. Negative review? Reply calmly with an intention to solve the issue, not prove your innocence.
We will dig deeper into the world of online reputation management and cover responding to negative reviews in Part 2.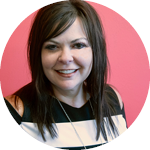 By Kim Rippy & Nicole Hickenbotham