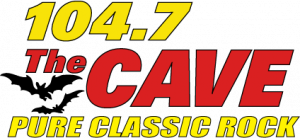 Classic Rock
Persons 35-54  
104.7FM   50,000 Watts
Station Profile (PDF) 
Coverage Map

Our audience remembers playing every song on their albums in their younger years. Today, they crave those "Deep Cuts"! We've done our research.  Listeners in the fragmented Springfield rock market demand more music in the morning, more variety, deeper album cuts and songs…and most importantly, a morning show that originates in the market rather than piped in from somewhere else. Therefore, more music, deeper album cuts with stories about the music and artists have created a long standing, loyal audience to the Rock their grew up with. Just "Pure Classic Rock". 
SCHEDULE:
5:00a—10:00a      Morning Show with Mike The Intern
Music and the history is a trademark of one of the most popular morning shows in the market.  Mike the Intern brings passion and a rock'n'roll twist to mornings on 104.7 The Cave with interactive features and contest listeners love. Mike is very involved in community events and is passionate about honoring our military and veterans here in the Ozarks.
10:00a—3:00p        Middays with Flash
Flash has been with the Cave since she started here as an Intern during her last days at MSU. Since then she has been our Weekend host along with filling in wherever she is needed. Flash is not only a fan of the music we play on 104.7 The Cave she is also a starter on the nationally ranked Springfield Roller Girls team! Jam out with Flash every weekday from 10-2 on 104.7 The Cave! 
3:00p—7:00p     Afternoons with Jay Stevens      
Nobody loves and lives like Springfield's "80s Rock Guy" Jay Stevens. With hilarious on-air bits and a deep passion for classic rock, Jay Stevens will have you laughing and singing all the way on your drive home.
7:00p-12a     Nights with Joe Westen 
SPECIAL WEEKEND SHOWS:
The Deep End
Sunday mornings from 10:00p to 12:00m, The Cave is home to The Deep End with Nick Michaels.  Featuring the music that defined an entire generation…rock and roll!  A two-hour trip to a time when music mattered!
The House of Blues
Hosted by Elwood Blues himself (Dan Akroyd) this wildly popular show is the only Blues show on the radio in the Ozarks. The House of Blues airs at 9:00a and again at 9:00p each Sunday!  The House of Blues Radio Hour delivers music and in-depth artist profiles of blues music icons.